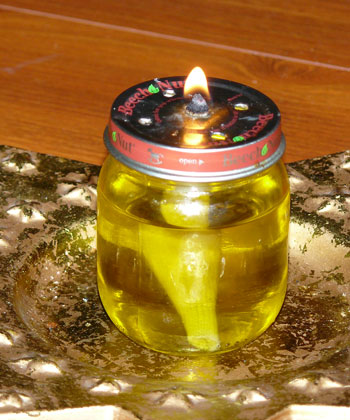 This is a work in progress and just thought I would throw the idea out there for others to experiment as well.
When we dive down into the roots of hoodoo, we will find that many things were conjured with oil lamps and not candles.
So in taking from the old tradition and applying it.  I have come up with this.
Recycled baby food jar, with some olive oil. A hole in the cap and a strip of cotton sock as a wick (thinking we could really work some personal concerns for a wick as long as it's 100% cotton *wink, wink*).
If ones would conjure in a lamp, the associated herbs would go into the lamp then the oil poured over and thus of course you have your *condition oil*.  
Personal concerns could go in.  Petitions pin to the wick or even burnt petition ashes can go in as well.  Can even color the oil or jar to a suitable color.  Add or draw pics on the jar. Even choice of oil can be a factor as well.
I like the idea of the oil lamp.  To me things
really seem to be *cooking* in there. ;)
May not look all fancy and pretty but that doesn't matter as long as the intent is there.