... but I sure am a funny bastard to watch. Entertaining, if nothing else. Just got re-banned from WT, for this;
Hello, BrianK. Remember me?
I'm certain you don't. To expect you to make the connection between me and the group that was the top on WT for about a year would be absurd, and giving you much, much more credit than you deserve. However, I know who *you* are. I know a lot of things about you, Brian, from watching how you've run this site for the last three years.
Do you remember the user SilverKitten? I think she was 14 when you propositioned her for sexual content, just before you freaked out and put the 17+ age limit on the site. That effectively erased her and her accusation, and any proof she had from the private messages you'd sent her. You and Syn did will on covering that up.
Except it just didn't stop there. The site kept growing and growing, and you started to see that it was an excellent source of income! Look, all these silly wiccans and pagans, they were a GREAT source of advertising income! So you kept upgrading and modernizing the site, all the while with dollar signs in your eyes.
But there was a problem... some people actually took this pagan thing seriously! When some of the new members came on, claiming to be related to characters in Harry Potter, the older, more seasoned and knowledgeable members sent them packing. If someone claimed to be half elven, or raised by Faeries, they were corrected firmly. These posers threw fits, and left the site. Oh, no no no, this wouldn't do. Members leaving was an unacceptable churn. This had to be stopped! Slowly, you clamped down on the ability of members to correct inaccurate information, for the sake of the almighty dollar. First the control of the language, terms, and methods, then the control of the content. Then, once we found loopholes, and started pressuring you to actually act instead of hide, you snapped and started cutting out the few people who were working to keep this site genuine. All because you were outed for not removing a known sexual predator who was collecting under-aged female friends, the same under-aged female friends you yourself said you approved one-by-one.
Are you going to say I am lying? I have proof.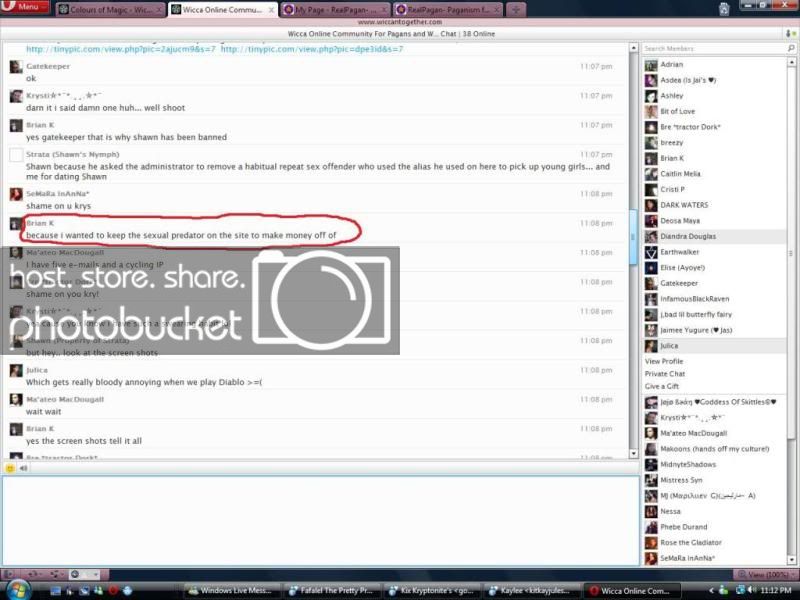 And finally... what you were shown.
http://www.esorn.ag.state.oh.us/Secured/p23.aspx?oid=Vg1FSMDDwVA=
He raped a girl under the age of 13. And you let him stay on here until the issue and offender were reported. You only acted when your own hide was in danger via personal liability. And you acted to cover your ass, not protect the community.
You are disgusting.