Well, after having a brutal winter storm a few weeks ago, and then temperatures dipping down in to the single digits just this past week.  The 50 degree weather as of yesterday was more than welcomed.  I enjoyed a bit of it, sitting on my bench outside my front stoop, noticing the perennials I planted from earlier years bearing their leafy green tops in the soil and the rose bush sporting new buds and now my mind is on gardening!  Or my excuse to play in some dirt, in preparation of some starter plants.
So here, sharing a tried & true method I use in irrigating my garden.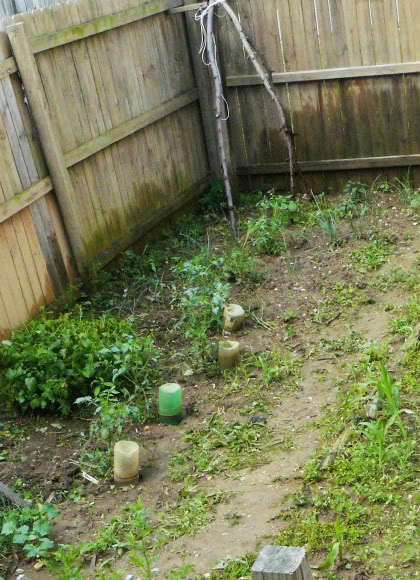 In the picture to your right you will see some 2 liter pop bottles positioned beside my tomato plants. I was looking for alternative ways of watering and in saving some money on my water bill. I stumbled upon this idea, which is about the same as those commercials that you see with the pretty glass bulbs you place in planters to water them...watering globes? Anyways, what I did here was take some pop bottles, cut the bottom off and drilled some holes in the cap. I dug a hole beside my plants, place them upside down and filled them with water until it stopped draining. The concept is, when the soil if full of water, the bottle will stop draining. When the soil is dry, it will water itself. Worked really well, I must say. Despite the pessimistic husband who assured me I would be over watering and thus kill my tomato plants. He was even freaking out about stagnant water and mosquitoes, which was an interesting point I never thought of. But he soon piped down when my remedy was cutting off the foots to some old pantie hose I had lying around and place them over the bottles. I also use water bottles for my container plants.
Using this bottle technique has proven to save on the water bill compared to how I was watering, with a garden hose, which was all over the place, encouraging the weeds to grow alongside my herbs and veggies.  It did eliminate some of the weeding that I have usually done in the past.  It's also great for catching and saving rain water, so the need of watering is also lessened. 
I know it maybe a little early for this, but happy gardening!