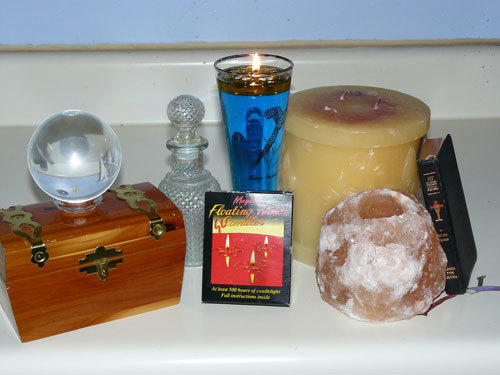 Huge 3 wick candle.......$3.93
Magical Floating Water Candle Kits ......$.50ea
Salt Rock Crystal Candle Holder.....$.90
3x6 Handmade Wooden Box........... $.90
Decorative Glass Bottle.............$1.91
Glass Ball........$2.92
1945 My Sunday Missal .........$.90
________________
First time out with my mom since her stroke........Priceless
The most exciting thrift haul for me by far. Now what does a witchy gal like me is to ever do with all these finds?

For starters the massive candle I got, is unused. I rarely find such a great find such as this, although I'm always scoping out the candle section, this for sure was a keeper to melt down for making my own candles. Can't beat the size or the price from any craft store selling wax, I bet.

The Magical Floating Water candle kits. Comes with about five floaters, 50 small wicks and some dye each (I got blue, red & green). The first time I have seen these was from a You Tuber by the name Krazyboytx. Basically you fill a wide mouth glass 3/4 of the way with water, add some drops of color and then pour you desired oil in the glass. The oil will then sit on top of the water. Then you place the wick in the floater and gently place it on top of the oil. After waiting for a few minutes, it's then okay to light and pesto! (shown in pic above)  Instant candle for all kinds of workings, that merely looks decorative and not so obvious. ;)  And do I really need to mention what a clever way to obtain 150 candles without actually having 150 *wax* candles taking up space?

The Rock Salt Candle Holder. I picked this up and actually had no idea what kind of "rock" it was but for 90 cents what the hey right? Not until the day after did I do a search online and I do believe that this is a rock salt candle holder indeed. Whether I believe the hype about when the candle holder heats up that it actually cleans the air or not, remains to be seen. However, I do know the properties of salt and well........you figure it out for yourself what kind of *other* uses this can be used for. 

The 3x6 wooden box, I firmly believe is hand crafted and I don't think it got much use at all, for the inside is prestine like new. When I opened it up the strong smell of cedar wafts from the box. I have no idea what I am going to use this for, I'm sure in time I will think of something.  (Hmmmm, I wonder if my recently gifted tarot cards will fit inside?)

The Decorative glass bottle I think for most part is self explanatory but for those who don't know, that would be for conditioning oil. This is my second pretty bottle that I have gotten from the thrift store and it doesn't seem so easy for me to find them. I do know that Avon has came out with some pretty fancy bottles in it's run. These are what I usually look and go for.

Glass ball. Ahhhhh! I know it would be foolish for me to believe it's really crystal, so I am simply calling it a glass ball which btw can certainly be used for scrying too. Even though I have never really ventured into scrying I think after finding this, it's now time to.

1945 My Sunday Missal. There are a few reasons why I got this book. In Hoodoo, the Christain aspect is stemming from views that is either Catholic or Protestant and quite frankly I am not all to familar with Catholicism. Naturally, I think it is only right to add it into my study and anyways, I have gotten some great ideas from it so far, such as revising/rewording a Catholic prayer of blessing to do over my oils and herbs (those Catholic's sure do know how to pray don't they? phew!). The second reason is, I just like the fonts used and the pictures. I mean they just don't make books like this anymore. There's an old nostalgic feel that I just couldn't resist. Maybe I will capture this with my scanner and create a new font file from this in photoshop? Well at least I have that option to do that. Also too, I thought it was a good example/idea on how I would like my printed grimore to look, that's whenever I decide on a font and page design (desicions, desicions, the curse of a perfectionist psp addict ~ugh~). The fact that it's from 1945 and it looks darn good for it's age, so good that I was shocked when I read the inscription in it when I got it home (apparently I overlooked this at the store), that this was just an added bonus.

But of course, of course, of course! A wonderful day out with my mother for the first time since her stroke and she did really well keeping up with all the running around we did that day. I was very happy to finally see some progress with all her physical therapy she has been doing and I know she was extremly happy to venture out of the rehabilitation center as well.

All these thrift store finds was just icing on the cake to an already great day.

Funny how things work eh?

Leaving you now with some show & tell pictures of The Sunday Missal.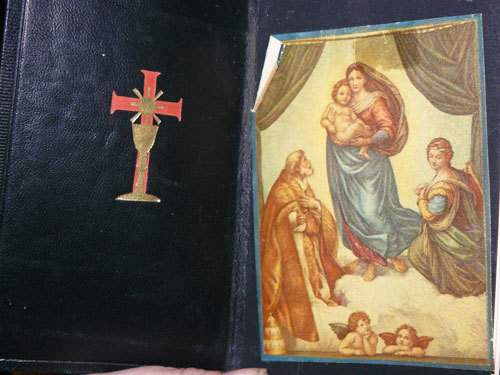 This picture was taped inside the cover of the book.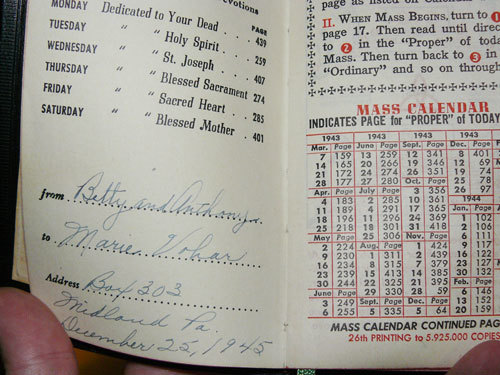 Here is the inscription.
December 25th 1945.
Thanks for stopping by!
Blessings..............