Twine Candy Cane Ornaments
So here's another crafty holiday decoration idea.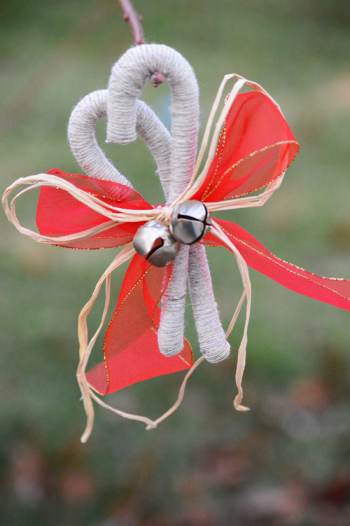 Materials needed:
- Candy Canes
- Ribbon
- Raffia
- Twine or Tan yarn
- Bells
- Hot Glue gun, and or comparable adhesive.
Step 1:
Begin individually wrapping two candy canes with twine or yarn, periodically gluing the string down as you go.  Make sure that the ends are sealed well with glue.
Step 2:
Take the two candy canes and criss cross them across each other into a position that is pleasing to you.  Hot glue the two pieces together.
Step 3:
Take the ribbon and tie a big bow.  Glue bow down at the intersection of the candy canes.
Step 4:
Slide the bells onto the raffia and begin to tie a bow, positioning the bells to fall right in place with the front knot.  Hot glue this on top of the ribbon.
Make as many as you like and hang them on the tree as is, or make a loop with some string and glue this on the back for hanging.  I have just inserted an ornament hook on the top candy cane for hanging.  Have not experienced any snags or unraveling of the twine/yarn by doing this.
Other words of advice:
- When gluing be careful not to break the candy canes.  I lost a few myself in the process.  
- Be prepared with using hot glue on such a light plastic, may cause it to melt.  I experienced a little of this, however it really wasn't that terrible.
- I didn't tie a bow around the candy canes because when I did, the bows were crooked.  This is why I did a free style bow and hot glued them in place.
- Candy canes may break over the years if not stored in a safe place.  It's been 3 years since making mine, and I now have some that are broken.  Although the glued twine is still preserving some of it's shape.  If I had to do this over again.  I might opt to buy a cheap set of candy cane ornaments from the store, for a more lasting project. Guess that's what after Xmas sales are for.
- Goggle: 'Wrapped Candy Cane Ornaments' for more ideas how to decorate your wrapped candy canes.
Hope you enjoyed today's holiday craft!
Blessings Always......
- Flammeous