Granted this blog post was inspired from two things.  First, from RP member Harobed, with her latest blog entry: Lets Get Crafty ......Refurbishing Xmas ,Cheap And Easy, and secondly, while crocheting gifts beside my festive holiday tree, adorned with all it's homespun goodness.  Is when I realized that I have some crafty refurbishing that I could share as well.  So in turn, I'm piggy backing off Harobed's entry and the idea.  I only hope Harobed enjoys this share, along with a few others I have to offer.  Just as much as I have thoroughly enjoyed following her blog.  Thank you Harobed!
Rag Ball Ornaments 
The back story:
About 2-3 years ago, I've gotten real tired of the whole glitz out, shiny, gwady Xmas decorations.  As if Santa and his merry elves just threw up tinsel all over the place; in my house and on my tree.  I was being drawn to a more rustic look, that captured the nature of the season,  far from the modern commercialized overkill of tackiness.  A going back to the 'roots of things'.  The way things once were.  Xmas/Yule's once past.
Rag balls are great for this.  Hopefully, you and yours have gotten your halls all decked out in all it's holiday glory by now.  As this isn't the quickest project to complete on such a short notice.  Although it is possible.  I'm a living proof of that, starting this project and many other's a few weeks prior to Dec. 25th rolling around, but I don't advise it.  Avoid the stress and make this a working project for next year.  The more hands the better, but this project may not be suitable for young children. Adult supervisor will be required because of the adhesives being used.
If this strikes your interest you can find a tutorial in making rag ball ornaments here.
Below is a picture of how mine turned out upon completion.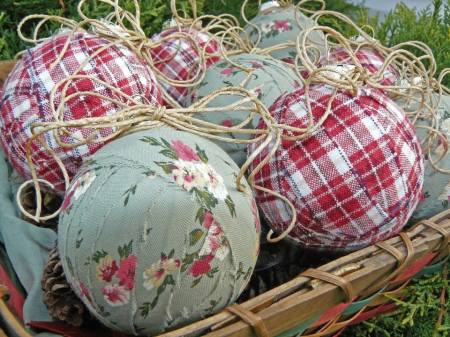 In the linked tutorial, the blogger uses Styrofoam balls, Fabric-Tac and distressing, with ink and tea.  With my rag balls I used, regular Xmas ornaments, a hot glue gun, with no distressing.  The fabric I used was an old, outdated skort (skirt shorts) and one of my husband's plaid shirts that no longer fit him.  Both pieces of clothing were destined for the donation bin.  So there's really no need to go out and purchase extra items for this project, as you may have many of these things laying around your house already.  
This is a great craft idea for refurnishing Xmas ball ornaments in creating a new look.  Goggling rag balls, will provide lots of inspiration using all kinds of material.
I do hope you enjoyed this entry.
Stay tuned for more crafty Holiday ideals!
Blessings Always...
-  Flammeous