A real quickie here.  As I still have things to get done.  Like Pink Lemonade frosted Sugar Cookies and baked Jerk Chicken for a pot luck I'm attending to at work.  But just wanted to show a few things that just got completed.  There's more that I would like to show; crocheted hats and scarfs, but my little princesses who would under normal circumstances model them for me are still tucked away in their beds.  Lucky them.  No school, and they're taken full advantage of not having to wake up till noon.  While mom is down stairs spazzing over last minute things before heading off to work.
First, some lucky individuals will be getting a mini loaf of my famous Chocolate Rum Cake, smeared with semi-sweet chocolate on top. Baked with my love of Wrays & Nephew Overproof White Rum (Rootworkers, this is the best Rum offering there is!) and glazed with Appletons Dark Rum.  This cake will pack a punch!  I had to shoo the daughter away from licking the cake batter leftover in the bowl last night.  The tags were made by me in photoshop.  With all the stress of the holidays, I thought it was only fitting.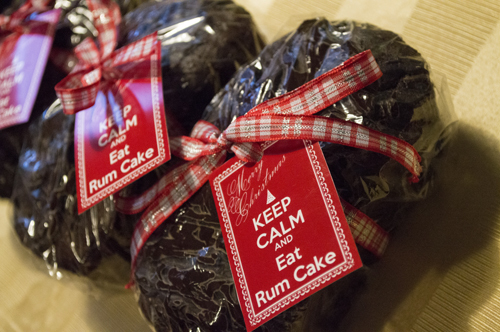 Next.  Here's a look at some phone cozies that I crocheted.  These were really quick to whip up in no time.  The owl took a little longer and finding a button for the nose wasn't as easy as I thought.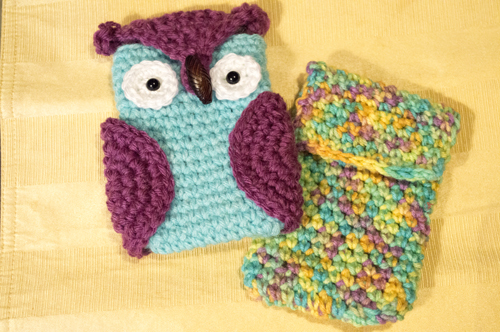 So in two weeks time.  I've crocheted two scarves, two phone cozies, two hair scrunchies, three hats and one voodoo doll.  Plus made some soap, along with the rum cake. As you see I've been BUSY! Now off I go to make some cookies and jerk chicken! I surely wish I had two stoves right about now. 
Blessings & Happy Holidays!
- Flammeous