Greetings on  Christmas Eve, I was given the strangest gift/  sign very early in the  morning at 3 AM. I was turning on our gas fire place and in the front corner of the fireplace was a black feather,I believe it to be a crow feather. I know it was not there last night when I turned the fireplace off because I would have noticed it, where it was placed  was very obvious. So where did it come from? Who gave me a feather ? And in the fireplace of all places.There is no way from the chimney that it could have fallen since it is screened at the top and blocked off from below. No one has been in my house for a while, and I have never found a crow or raven feather before, they seem to be rather scarce for me to find, I have never had problems with finding owls or hawk feathers but never had the joy of finding a crow or raven feather. I love being gifted feathers. So what is crow trying to tell me, and who and what source put it there to begin with? I love freeky things like this, it is truly a mystery. Another thing , yesterday afternoon I get a call that I won the raffle for the Sheriff's department of 150$ I bought 15  , 1$ raffles a few days earlier.  So wow, is this great or what!! Are they both messages for me? I will accept them as such. So this is what I could find about a feather.
Sacred Feathers
Birds hold knowledge of speaking with all animals. All feathers relate to human spirit and its innate connection with the Divine. They are the "initiators of air" in opening to realms beyond physical time and space. Psychic perceptions are thus transformed into spiritual intuitions. Air separates Heaven and Earth, thus the birds are the epitome of the flight between spiritual and the physical being. With bird medicine, we learn to use our innate intuitions to ride the currents of life. There are several kinds of feathers that help propel flight. I will only relay the most common ones without the breakdown of the specific type of feather and its function.
The flight /wing feathers are strong and vaned. These lift and reduce drag. If these feathers are found they can heighten meditation and movements in life.
Tail feathers are sturdy and strong. They are used for steering and braking. They align us with forces to help stop and steer our own lives.
Down feathers are soft and dainty. These grow continuously under the main feathers for insulation and to condition the bird's coat.
When a feather comes to you, it is sometimes difficult to tell what part of the bird the feather is from. After inquiring of the feathers and learning about the bird, eventually you'll recognize and identify feathers more easily. But nonetheless, it is a message from nature to contemplate on. When you find a feather it can lift, insulate, and protect you against life's elements. When a feather catches your attention and is discovered in an unexpected place, it is a gift for your path. Feathers bring us inspiring messages to remind of us our world and our connection to it. Their symbolic meanings inspire us to soar to new heights. There are times when a feather becomes a reassurance symbol by appearing to you when you are going through the different phases in your life. Letting you know that you are loved and watched over. They remind you that you are still a part of the Whole. Different feathers also may correspond to your own awareness cycles as the ebb and flow of energy changes. The feather creates the opportunity to awaken your insights. Spend time with your feather and the symbolic meaning will appear. You can honor your feather by: meditating with it, breathing on it which activates the life force of air and wearing them. Make prayer sticks/wands, staffs, aura dusters and feather/fetish pots. To help you determine how birds reflect your present life you may ask these questions.
What is the size, shape and color of the bird?
What is the feather function?
What are the wing structures? (Soaring, fast, slow)
What are the actions in the air and on land?
What are the sounds it makes?
If you look, listen and watch carefully you will see birds and other animals around you that accurately reflect what you are feeling and going through. They can also lead you to understanding of where you are going and how to change directions in your life. All of the actions you do reinforce your connection with the bird spirits. In nature all is one. Honor what you have, it will always honor you, therefore you honor yourself and your oneness with the Great Spirit, The Highest and Most Holy One. Animals have never failed to talk to us, we have never listened. Only by enhancing our awareness of intuition and consciously listening to our natural surroundings can we learn from all the animals.

Crow:
Crow is a harbinger of change; spiritual, mental and emotional. Life, death, rebirth, transition magic, watchfulness, look for opportunities coming up, aids in ability to move spiritually and physically. They teach the power and balance of light/dark and spiritual/physical. He teaches to create and manifest things in our lives, all of life is waiting. Crow announces a newness on the horizon. Are you aware of the nuances in life? Are you listening to signs around you? Crow can give strength and show you how to maneuver in intuitions and insights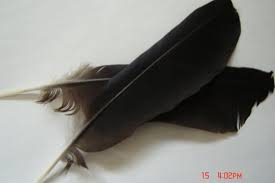 Raven:
Raven is about the magical act of creation, internal magic and transformation along with miracle of a rebirth. Raven tells us to be aware of omens that become a harbinger of the mystical and exotic. He can show how to stir life without fear and teach to balance life's playful aspects. Raven also brings in the light of awareness and knowledge with opportunities of great changes that are in store for you. Raven will teach how to usher in these new energies. He shows how to dive into the depths of the inner being to illuminate the true self. Are you ready to uncover past conflicts and long forgotten emotional issues? Raven will teach how to transform your spirit. From the deepest part of you healing begins. What has been in darkness will now emerge into the light.