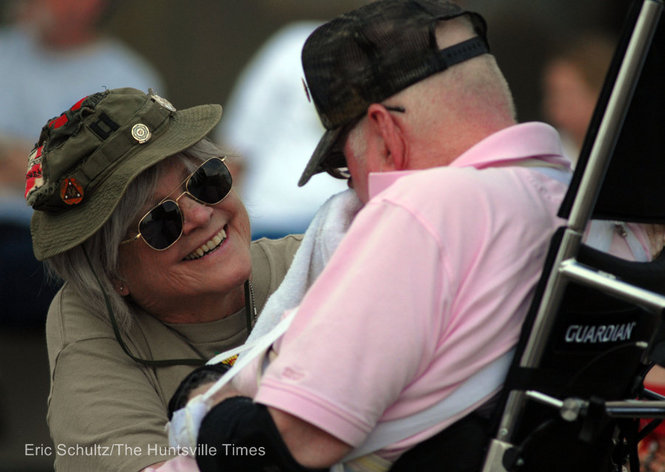 Carol Kirk, a nurse in Vietnam from 1969-1970 comforts Paul Stanger, an Air Force veteran who served in '68, '70, and '72 and was overwhelmed with emotions during the first annual Welcome Home Vietnam Veterans Day event at the Huntsville Veterans Memorial Thursday, March 29, 2012 in Huntsville, Ala. (Eric Schultz/The Huntsville Times)

This picture was taken of me on 3/29/2012 as we celebrated Vietnam Veterans Welcome Home Day here in Huntsville.  I appreciate the effort that was made, and maybe it's mean-spirited of me.   But to me the day came 40 some years too late...too late for some of my Brothers who died before their nation could acknowledge the sacrifices that they and their families made those many years ago.

Once upon a time I swore some pretty hefty oaths to take care of my Brothers no matter what.  As far as I'm concerned those oaths are still in effect.  Whenever I'm at something like this or at the Wall, I'm always looking for any of the men who are having problems and try to help.  I tell them to hold my hand and it will be OK...just as I told them long ago.  Some wounds just never heal.

And being that I was feeling just a bit bitchy...when they asked for one man from each of the services to come up and tell their story I decided that I wasn't going to let the women go unremembered.  So I invited myself up to the microphone and asked that people not forget the 7500 women who also served in that war and who also bear the scars that warfare leaves.  And my Bros gave me a rousing cheer.
There are those amongst the Pagan community who look down on those who were called to be Warriors.  I think that they miss the point that those of us called to serve do so out of duty to protect our nation and our loved ones...not because we like to fight or kill  Had you seen the love and brotherhood amongst those in that memorial service I believe you'd have another view of what soldiers are like.  When we came home we were spit on and deviled, even though many didn't have a choice in whether to go or not.  We've all remembered that, and we make sure that vets coming home from Iraq and Aftganistan are welcomed properly.  We claim the motto "Never again will one vet abandon another.  No one left behind!"