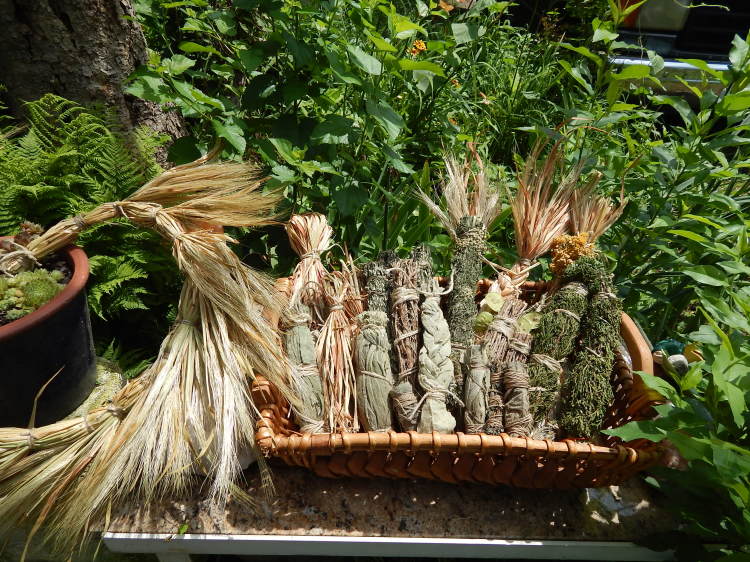 As a HedgeWitch this is the season that Im at my busiest.It's both time to process what I harvested in the spring and had curing,plus there is a ton to reap ,dry and process now.Above is a basket of some of my recent work; braides ,smudges and a Wheat spiral .Wheat is a wonderful  time honoured reagent to use in spells .Wheat contains the spirit of the earth and harvest .It is used in spells asking Gaia's blessings,or for  growth and fertility.The braids are quite easy to make and its a simple spell for one trying to become fertile .Once made small braids can be used as altar offerings or burnt as part of a spell.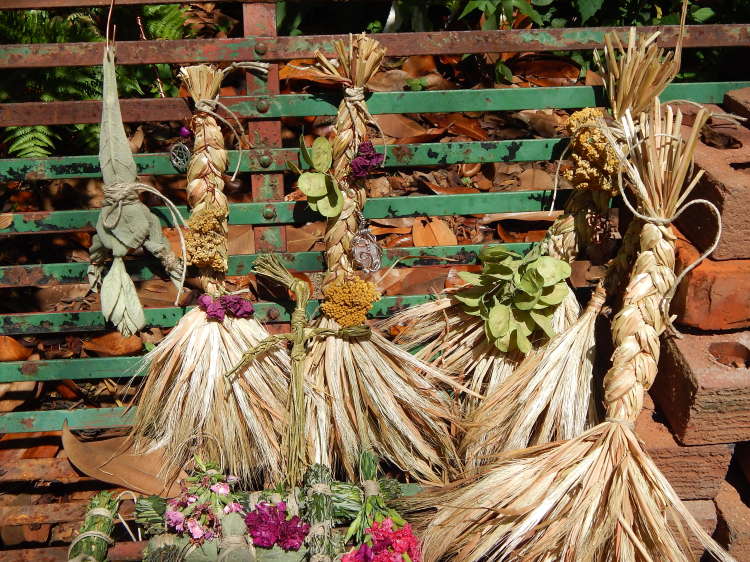 Larger braids can be decorated and used as Door besoms/wards to bring prosperity to your home .The spiral of Wheat is truly a bit of breaking out the big guns . In Celtic lore the spiral stood for the radiance of ethereal or cosmic energy. Native Americans consider it symbolic of the journey of life.For Witches it symbolizes all of the above and the Goddess.The Wheat Spiral is a contemplative spell aide ,it helps you focus on the spell you are working while it spirals the the combined energies of you and the Wheat out into the Ether .I find its best hung where the only air currents are your breath and the heat of your candle .(keep it well away from the flame lol)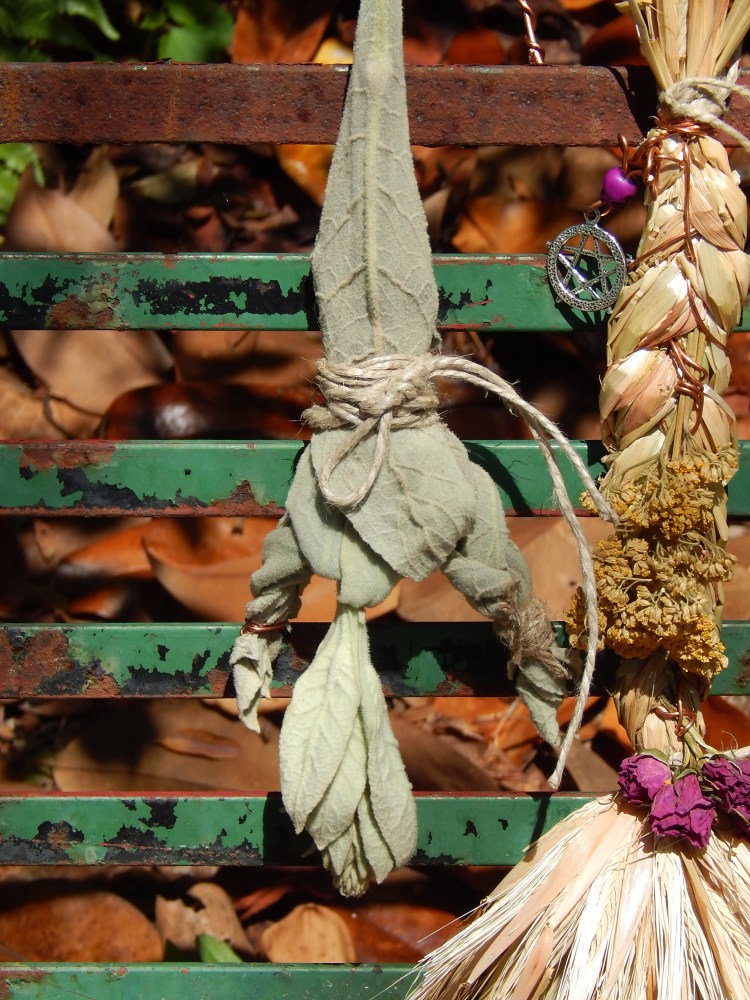 This is A Mullien Hanged Man Poppet. There is only a small window of opportunity each season to make these as they can only be made right as the Mullien is forming a bud. First cut the stalk 6-7 inches below the bud , allow it to wilt over night (this makes them easier to braid) then carefully divide and braid the upper leaves into arms.The arms get tied off at the wrists to form the hands. Once this is done you fold and wrap the remaining leaves to form the body ,tie it at the waist and hang upside down for a few days to dry.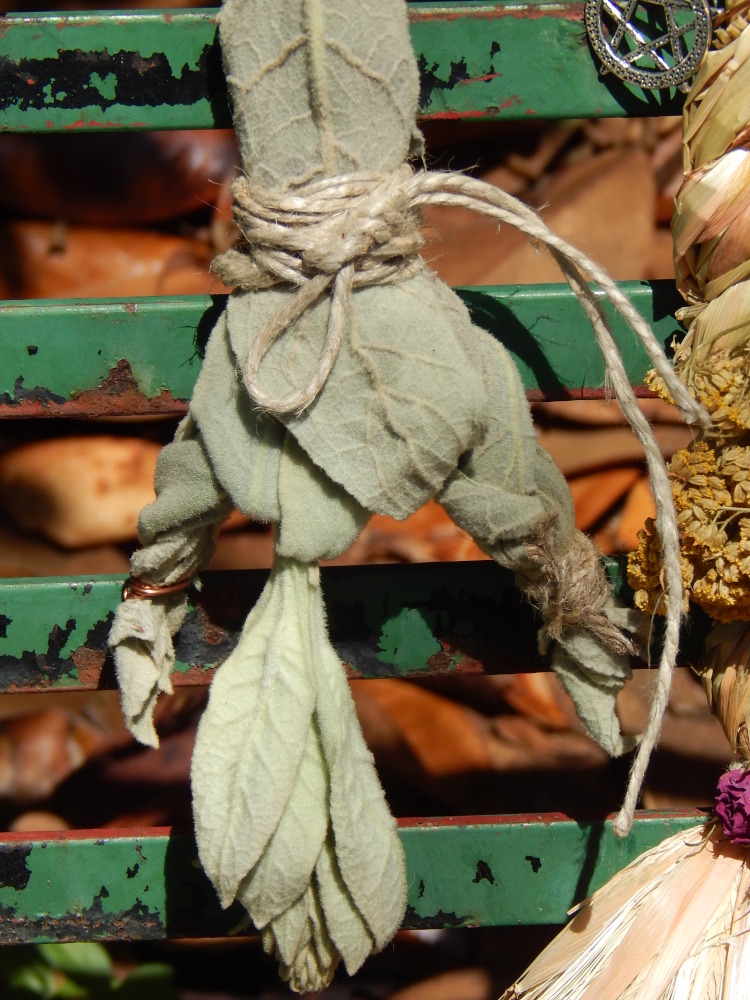 Mullien is used for a lot of different things some of which are Courage, protection from wild animals, protection from evil spirits, cleansing of ritual and psychic places before and after working there. Also used for cleansing and purifying ritual tools and altars.Mullien smoke is a powerful reagent in spells against Enemies. The purpose of my Mullien hanged man is to aide in spells of bindind and unbinding.How to use it properly is simple and obvious.You Suspend it over a brasier to burn /upside down will bind the subject of your spell by "hanging them up" in their own problems.Right side up releases the chains that bind you and allow you to move forward ,I like to use Rose Quarzt in conjunction with Mullien in a spell such as this .It gentles the release /evolution process.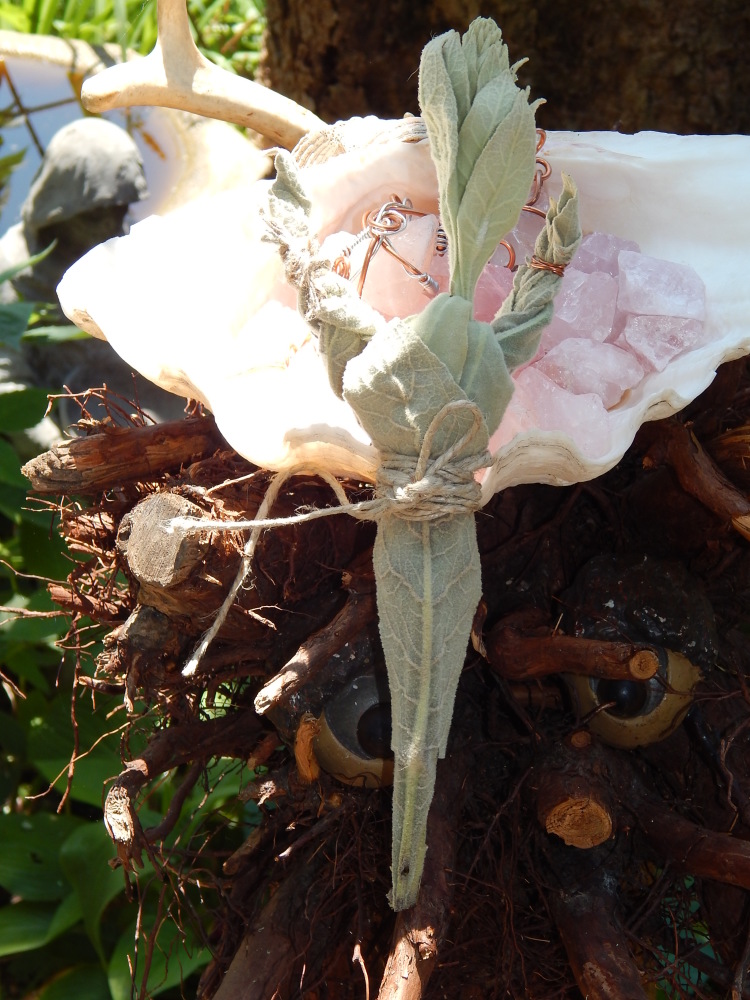 Lastly are my smudges. Everyone knows about Sage smudges and what they are used for ,but as a HedgeWitch I make smudges for all sorts of specific things.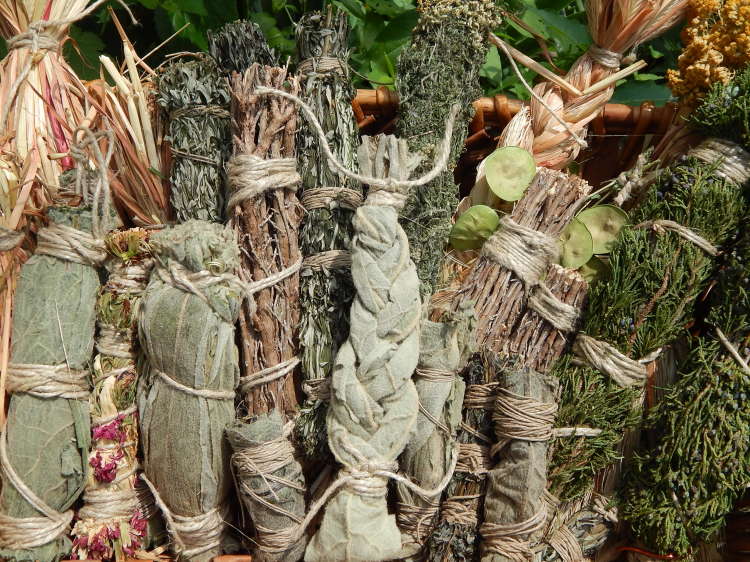 Right now here in Virginia the Cedars are in full berry and ready to be harvested .Cedar is one of the traditional nine woods used in the Druid balefire.It represents both the element of Fire and of Earth.Cedar smoke invokes confidence, strength, power, money, protection, healing and purification .Another use for Cedar is to ward against lightening so its an excellent aide in spells protecting hearth and home during storms......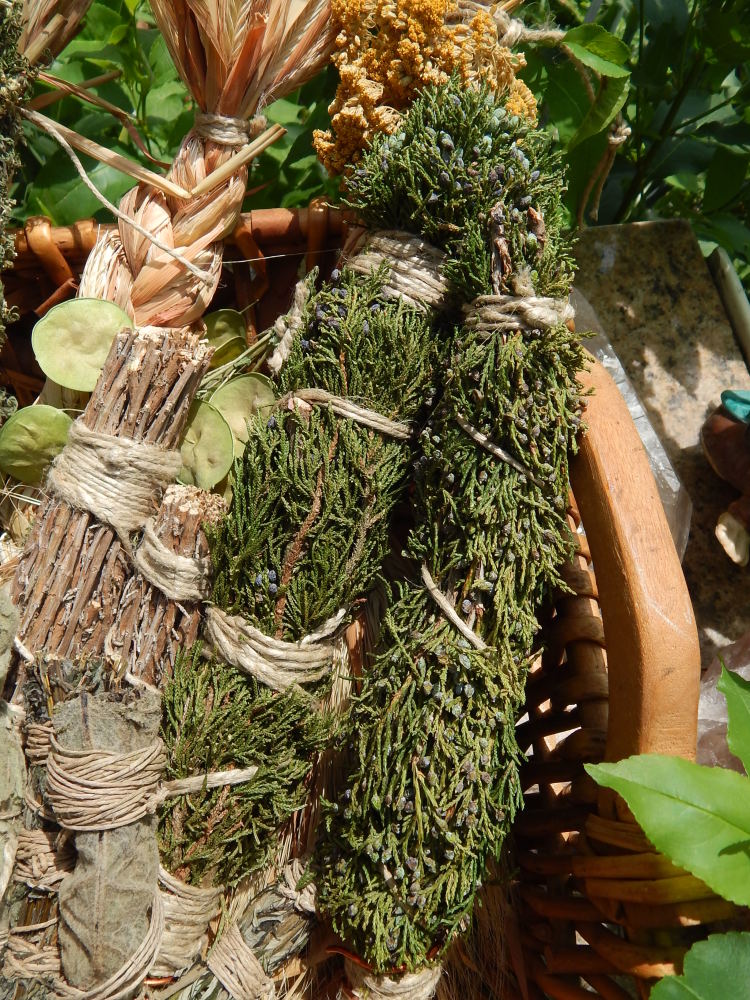 Mugwort is now plentiful and is one of my "go to" herbs .I love the taste of it in tea and I love the smell of it in smudge. Its used in spells to invoke Clairvoyance, psychic dreams, astral projection and protection. If you are traveling smudging with Mugwort fights fatique and revitalizes your pyche.
     Other Smudge combos I've made recently are Sweet Marjoram wrapped in Mullien to use in spells that thin the veil,facilitate communication with those who cross over and lessen grief. Yarrow and Basil for marriage charms ,dispelling negativity ,healing relationships and summoning courage.And lastly Lavender and Wormwood to dispel restless spirits and ease them through the veil.