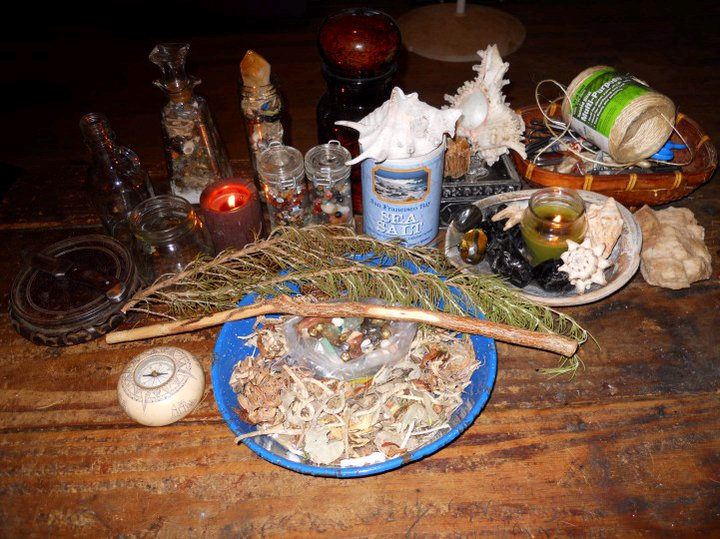 Spell bottles are a timeless tool used by all who have come before us.They range from elaborate to the simple and they are quite easy to make.However as with any spell there is a proper way of doing things .You cant just stuff things in a jar and say " so mote it " and think you've made a proper spell you haven't! (what you've done is make a pretty jar lol )
Being a life long Hedge Witch I have spell bottles everywhere ,in all shapes and sizes.Today I'm going to walk you through how I make mine.
For starters not everyone can harvest from a garden and forest like I can, so be creative! These are a great way to hone your skills at mixing reagents and imprinting your intent on
them.So lets get to it........
First of all choose a time when you are free to work uninterrupted ,you cant do this with people running about and the phone ringing! Ok having banished all from your realm you areready to start.
Gather together the materials that are to be used.Make a list if
necessary so that all your tools and reagents are within your sacred
space. This is important as you shouldn't break the sanctity of your
cleansed area. Keeping focused on your intent as you gather is equally
important that's why distractions are a no-no.
Once your done gathering,prepare your space for spell work according to whatever rites or rituals you observe.
Then the fun begins.....
Mix your reagents together, this is the time for focus and clarity the mix
wont know what its job is unless you are clear in the intent.A spell doesn't fail because the contents don't work. It fails because the
energy's of its individual components are not cohesive. Picture in your
mind the end result of the spell that being created then hold that thought.
I like to start my bottles with salt ,any salt would do ,however I
prefer sea salt .Why salt? Because salt grounds, protects, cleanses and
amplifies energy.This makes it the perfect base to build a spell on. Next I add the
mix of reagents Ive prepared.Now I bet you were wondering what I planned on using the wand for ,well now you know its for tamping down the
mixture.When tamping down your mix you must be firm yet gentle . The
goal is to settle your mix into its place not mash potatoes.hehehe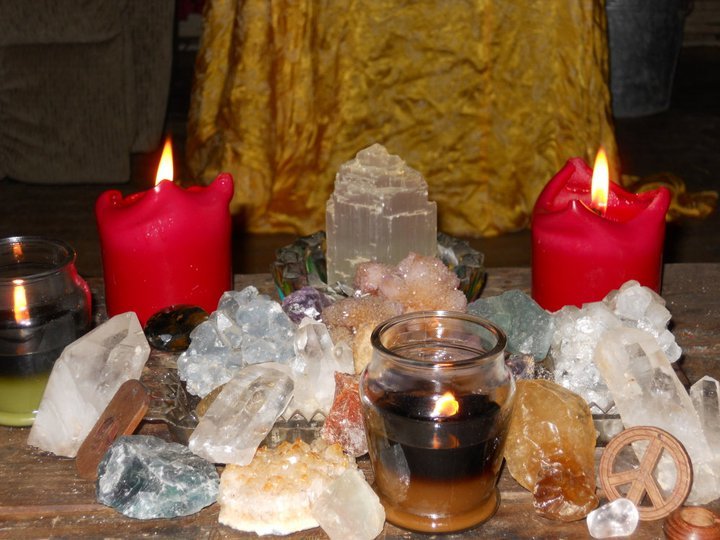 Some times done isn't done. Once my  jars are finished I leave them to charge with the energy and magic produced by the space,candles and stones.extra boost of prosperity.I wont remove my bottles until the candles
have burnt out ,at that point I'll break down my circle and the spells
are set.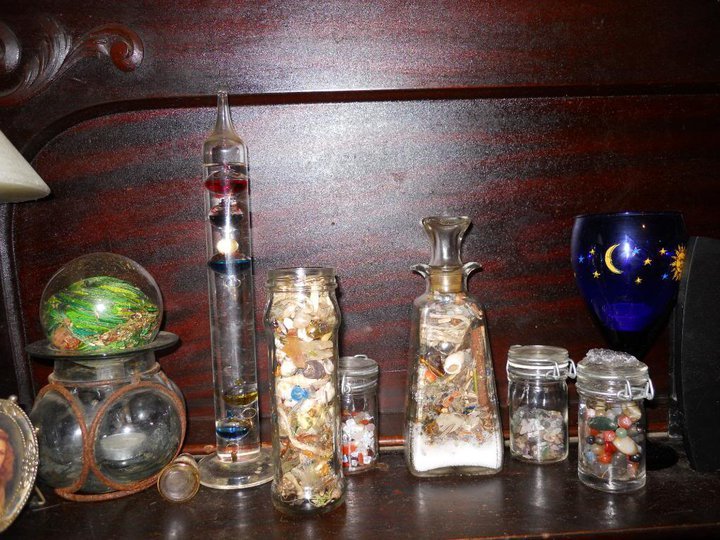 When properly made your bottle will show its contents off ,
here you can see shells and bells snuggled with herbs and salt.
You will be able to feel the energy around you that it
radiates and you will bask in the warmth of a job well done.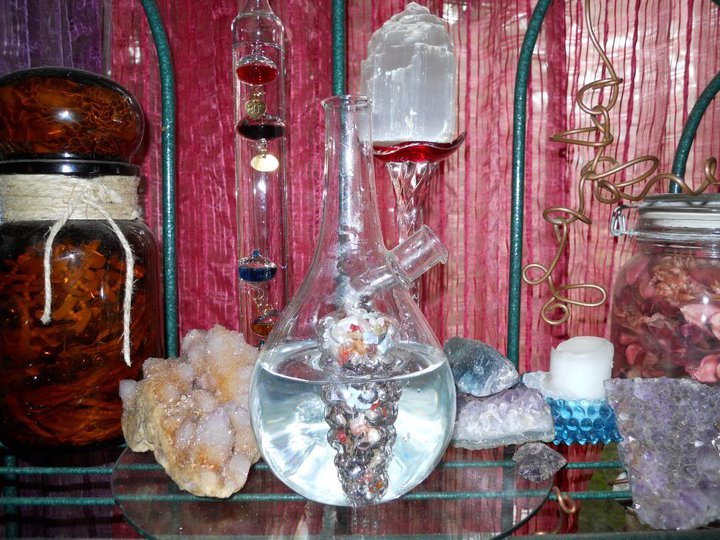 Heres a different type of spell bottle .Its not advisable to make elixers or potions to drink by using stones for the infusion,some stones such as Malachite are quite toxic.This was a vinegar and oil cruet ,I fill the inner space with stone chips that correspond with what Im brewing  and the outer is filled with water or wine ,I allow it to "steep" for awhile then drink it ,make tea or
whatever use I have for it.
Blessed Be my dears I hope to see some of your bottles soon.