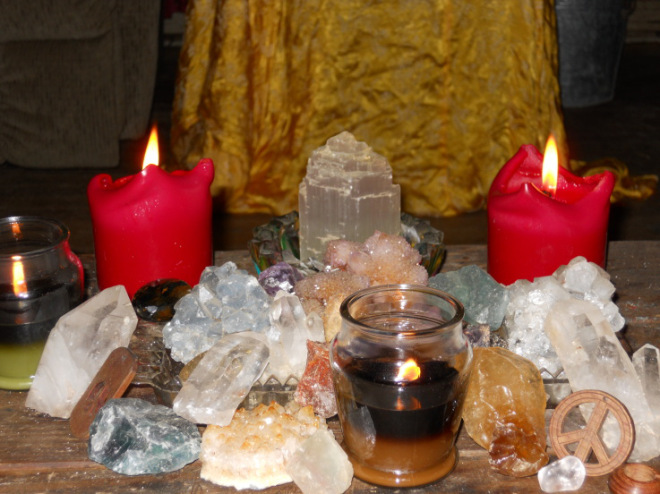 Yule is the time of year where you give your best to other people.In my world that means I craft their gifts rather than give out Wallyworld gift cards.So while the bulk of the population are racing around going into debt.Im in the middle of finishing the many Yule presents that I make.I have to tell you this is not just a labor of love ...its a great deal of fun! I quietly listen and figure out what they want , what they may not have and what will put a smile on their faces. I craft pentacles ,smudge sticks,spell bags,talismen and sweet little besoms to tie onto the tree..Female Cedar trees this time of year are laden with tiny silvery blue berries. They give the trees a bluish cast when viewed from a distance.The tiny berries are waxey and extremely aromatic .I gather them each year and use them in all my Yule Craftings .Rosemary is another wonderful herb to use in Yule craftings It ivokes rememberance , love, power, healing and protection.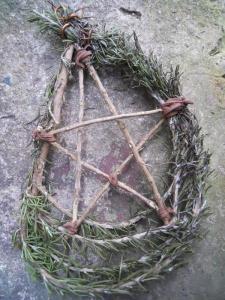 Bundled with bright ribbon Cinnamon sticks are wonderful aromatics ,tie them close to your lights so they warm and release their scent. Cinnamon is used in spells for Protection Psychic Powers Spirituality
For those of you that have a fake tree heres a great trick...... dot pine cones with peppermint oil once dry tie on your tree close to a light for the wonderful scent of peppermint and pine.This magical mix will rouse the conscious mind, halt negative thoughts,invoke magickal energy and manifest money. All of these are perfect for Yule gifts and it only cost me in time , twine or ribbon and a bit of reclaimed copper wire.I wrap them in tissue paper and tuck them along with some dried herbs ,spell bags or other handmade Yule into tissue lined baskets. Ive never had one of these baskets met with anything other than delight.
Lastly theres baking ....everyone on the list gets fresh baked cookies and a loaf of holiday bread . Now we allll know nothing says loven like something in the oven! This year since cash is tight I'm makeing Cinnamon Raisen Bread,Butter Cookies with Strawberry Jam prints. Yummy and colorful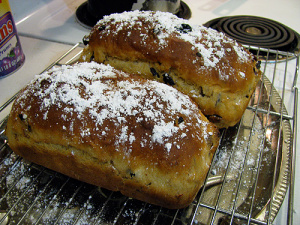 Cinnamon Raisen Bread 1 1/2 cups milk 1 cup warm water (must be between 110-115 degrees) 2 (1/4 ounce) packages active dry yeast 3 eggs 1/2 cup white sugar 1 teaspoon salt 1/2 cup unsalted butter , softened 1 cup raisins 8 cups all-purpose flour 2 tablespoons milk 1 cup white sugar 3 tablespoons ground cinnamon 2 tablespoons butter , melted (approx.) Directions: 1Warm the milk in a small sauce pan on the stove until it just starts to bubble, stirring occasionally. Remove from heat.Let cool until lukewarm, about 120-125 degrees.Dissolve yeast in warm water and set aside until yeast is frothy, about 10 minutes or so (make sure your water is at the correct temperature or the yeast won't activate.) Then mix in eggs, sugar, butter salt and raisins (stir in the cooled milk slowly so you don't cook the eggs.) Add the flour gradually to make a stiff dough.Knead the dough on a lightly floured surface for a few minutes until smooth.Place in a large, buttered, mixing bowl and turn to grease the surface of the dough.Cover with a warm, damp cloth and let rise (I like to let my bread rise in the oven with the light on. It has just the right amount of heat and keeps the bread out of drafts.) Allow to rise until doubled, usually about 1 1/2 hours.Roll out on a lightly floured surface into a large rectangle 1/2 inch thick.Moisten the dough with 2 tablespoons milk and rub all over the dough with your hands.Mix together 1 cup of sugar and 3 tablespoons cinnamon and sprinkle mixture evenly on top of the moistened dough.Roll up tightly (the long way).The roll should be about 3 inches in diameter.Cut into thirds, and tuck under ends and pinch bottom together.Place loaves into well greased (you can use Crisco or butter for this) 9 x 5 inch pans and lightly grease tops of loaves.Let rise in warm place, uncovered, again for about an hour.Bake at 350 degrees for 45 minutes or until loaves are lightly browned and sound hollow when tapped.Remove from oven and let cool on rack.Take melted butter and spread over tops of loaves.After about 20 minutes, lay loaves on their sides and remove from pans.Allow to cool before slicing.
                                                              Thumbprint Cookies
1 c. butter 1/2 c. sugar 2 c. flour 2/3 c. jelly or jam Soften butter. Add flour and sugar; mix well. A small amount of water may be added to the dough to facilitate mixing. Roll into 1/2 inch balls. Flatten with a glass dipped in sugar. Indent center. Add 1/2 teaspoon jam or jelly. Bake at 350 degrees until slightly brown. Makes 3 dozen.