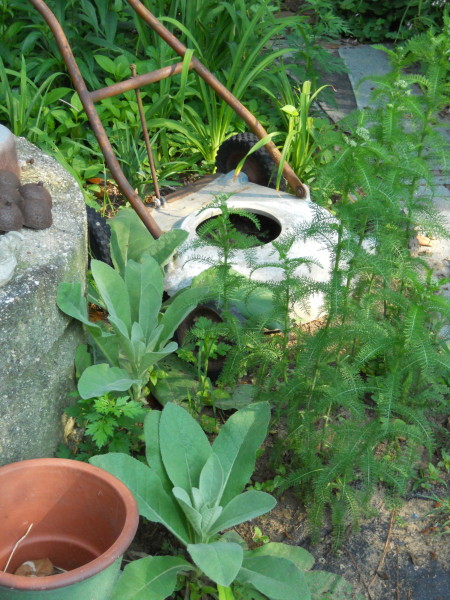 As a Taurus Belthane has got to be my favorite holiday simply because everything in my garden is now going
"fullsteam" ahead.The farmers feild is a lush green ,I am in Tarus heaven as my realm begins to thrive.I cant wait to fire up my cauldron .The groovy little spell pouches I'm in this blog are for my cauldron,however they also can be buried ,carried ,slipped into your pocket ,or put on your altar.I just like a little fire with my spells ;) wheeee!
Yarrow and Mullein are two of my favored herbs when it comes to their easy growth habits
and their versatility in simple spells. As you can see in my garden they grow side by side needing only
full sun and the most basic of care to thrive.They really could care less about the soil being poor or the
summer being hot and dry ,in fact they dont like alot of tending.You can harvest Yarrow any time during the season for use.I like to let mine bloom at least once as the blossoms dry quite easily.Yarrow also comes in a wide range of color ,from White (this grows wild here in Va.) to hot reds .They make a wonderful display in the garden and dry beautifully for spell use.
Mullein leaves can be harvested often though out the growing season without stopping its beautiful bloom stalk from forming.Be conservative now lol....you cant expect to pluck it nude once a week.Mullien have great big leaves so, if you have 3-4 plants you harvest 3-4 leaves every 4 -5 weeks.Let it bloom and set seed ,you can harvest the bloom stalk later in the fall for other uses such as witch candles and wands.
Now in spellwork ,together these herbs represent both the masculine and the feminine .They balance and strengthen each other , working hand in hand .
Lets begin......
First you harvest a little :)
Once that's done gather up your twine and a pair of scissors.Any twine or ribbon will do.However if ribbon is what you use the color should correspond with the spell you are making.Since these spell pouches are going
to be used for divination I have used hemp twine.One of the properties
of hemp is to open the third eye ,another is it
facilitates divination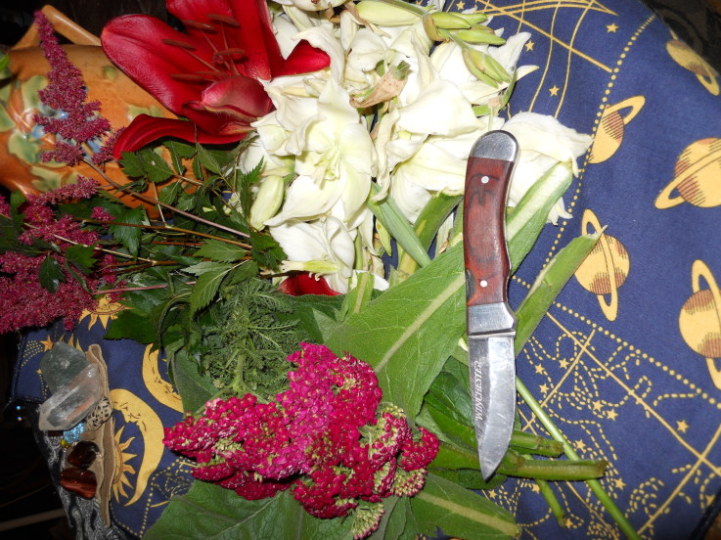 Lay your Yarrow across the width of your mullein and cut your twine to the length you need...........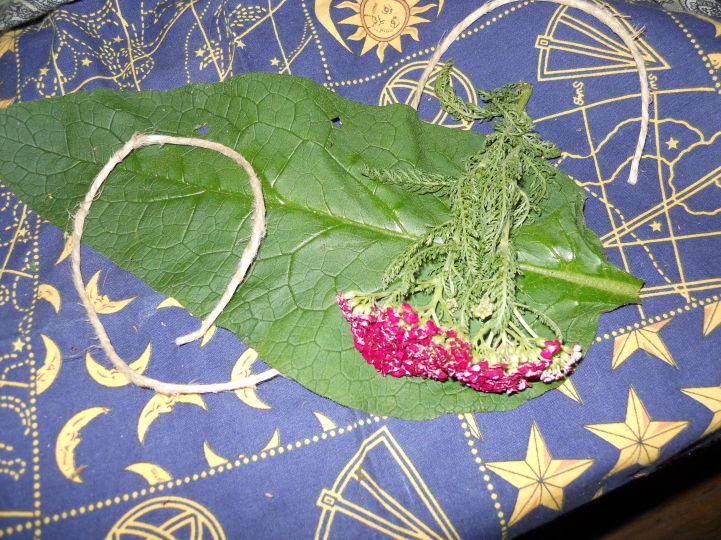 Then you simply roll it up , tie twine around the the middle and you have a great little spell pouch that can be used fresh or dried for later use.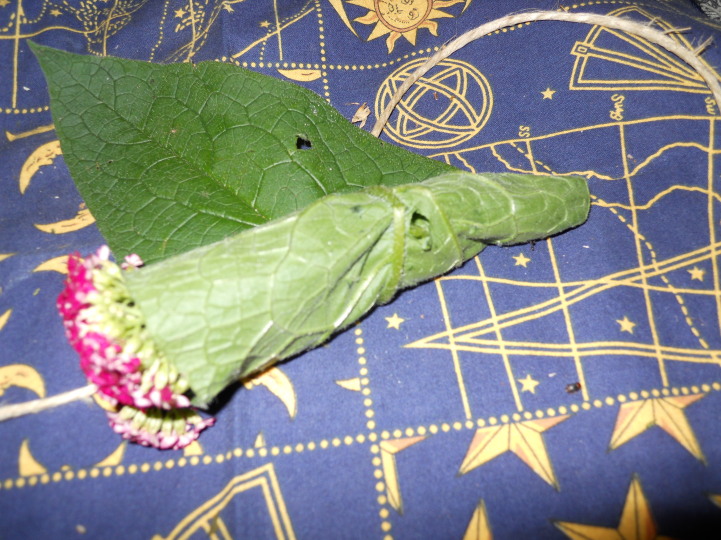 See how easy ,it takes no time at all!These are something I make weekly during the season.I put them on wreaths,they grace my altar and theres always a few in the cauldron basket ready to be burnt.If you belong to a coven they are great little presents for your buddies :) Below you'll find the properties of Mullein and Yarrow listed .Have fun !
Mullein
Masculine, Saturn, Fire.
Mullein can be used for courage, invoking spirits, protection or keeping away demons and nightmares.
It's great for the cleansing ritual places before and after working there. I also use it for cleansing and purifying ritual tools and altars.
Yarrow
Feminine, Venus, Water.
Yarrow's magical uses are courage, love, marriage charms, dispelling negativity,amplifying psychic abilities and divination. The tea drunk prior to divination will enhance one's powers of perception.