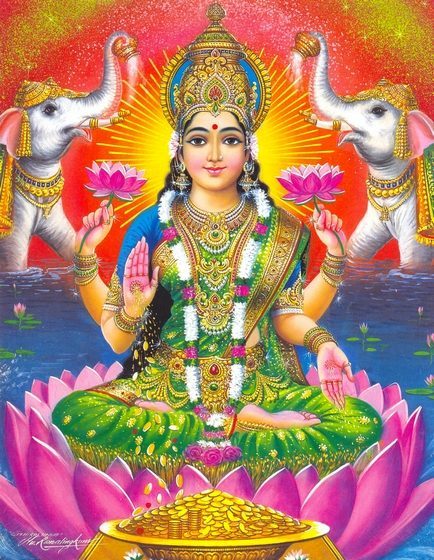 Lakshmi – Goddess Of Wealth Sri Lakshmi Devi
Lakshmi is the Hindu Goddess Who Governs All form of Wealth and Success and the Paths, Means and Results of all forms of Prosperity. Mother Lakshmi is often depicted in several colors: Pink, Gold and White. When Lakshmi's skin color is Pink, She is the Divine Mother. When Her skin is Gold, She is the Universal Shakti and when Her skin is white, She is Mother Earth.
As the the Consort of Lord Vishnu (Narayana), who is the God of Preservation, Lakshmi Devi is the Goddess of Health and Beauty. Sri Lakshmi embodies Sublime Beauty, Siddhi, Peace, Strength, Balance, Auspiciousness, Opulance and Wisdom. Because Lakshmi possesses all of these good and noble qualities, She embodies infinite wealth~ symbolizing that good and noble qualities are the only wealth we can keep.
Lakshmi Devi is always depicted sitting or standing on a lotus with golden coins flowing in an endless stream from one of her hands~ symbolic of when the lotus of wisdom blossoms, the wealth of good and noble qualities appears and Lakshmi's blessings are present.