Warning:  The suggestion below is of my own making purely to burn dried fruit & honey incense and/or kyphi incense and Is Not Suitable for burning of loose incense mixtures, powders or resins due to it's construction.  Please be advised, that burning such mixtures with the suggested method below is Not recommended!
Here is the link to my dried fruit & honey incense:
http://realpagan.net/profiles/blogs/incense-pellets-dried-fruit?xg_...

I'm am sharing this idea, greatly stressing the use of caution and safety.
First, I am opposed to using charcoal discs, so I therefore had to come up with a method how to burn my dried fruit & honey incense after I made my first batch.  Sure my kitchen stove top worked fine, however kinda hard to carry around about the place.  I wanted something more portable and I'm really too cheap to dish out 40 bucks or more to buy any of the incense stove burners I scoped out online.
After a year of trying everything I could possibly think of.  Many different oil burners, candle warmers and even went so far as to borrow a friend's soldering iron, calling myself making one, in which that went bust, needless to say.  I stumbled on this idea by complete accident, while making peach cobbler. There sat the empty peach can and the strainer that I used to drain the liquid from the peaches and Wa La! Brainstorm!  I placed the strainer on top of the can and wouldn't ya know, perfect fit.  Now so very excited that I might be on to something.  I hurried to find a tea light, placed it inside the can, lit it, then placed the strainer on top of the can, placed one of my dried fruit & honey incense pellets in the stainer and wouldn't you know it.  It worked!  
I know by the looks of the pics, it's really kinda tacky looking, but I don't care.  I saved myself 40 bucks and that's all that really matters to me.  
A word of caution.  The can will get hot!  So make sure you have it placed in a bowl or on a dish and do not touch the metal when burning, only until after the candle has been extinguished and it has been giving time to cool.  
Another suggestion, which I have not done yet, but plan to when I get my hands on some.  Is to add sand at the bottom of the can, then place the tea light on top.  Other wise, I have been well pleased with my handy, dandy homemade incense burner.
Once again, I repeat, and I really hate to sound redundant here. Do not use this method for burning loose incense!  As you should know that the mixture or resins will fall/drip through the strainer into the candle flame, a great recipe for flammable conditions if that is what you so desire.  I will not be held accountable if you decide to not heed my warning.  
However, I will give another suggestion of burning loose mixtures, powders and resins without the use of a charcoal disc.  Take this same idea with the can, cut a hole out of it compared to those of oil burners, to place the tea light inside and use a piece of aluminum foil, cupped downward over the top of the can. Please use a sensible foil for this.  This is one time it doesn't pay to be cheap, for many of those off brands of foil can catch fire. Of course follow the above instructions about the placement of the can and handling.  
Btw, I have tried the foil for the dried fruit incense, it doesn't produce the same results as the strainer does.  
Now for pics, of my homemade incense burner for dried fruit & honey pellets (ONLY!)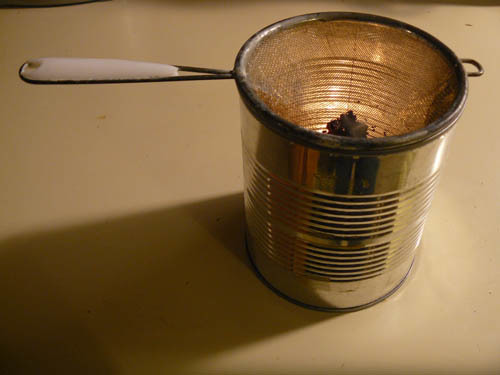 Side view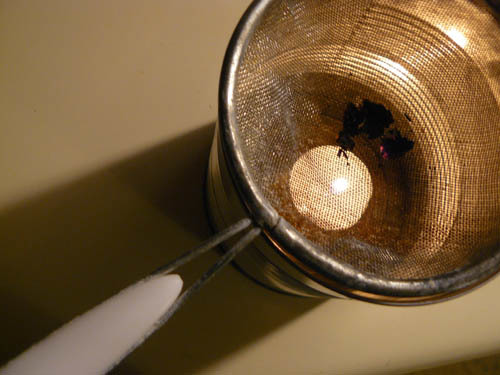 View from top.  You can see it smoking in this pic.  I prefer to keep the handle on so I can easily remove and replace the incense pellets without touching the hot metal.
Blessings..........