This is going to be a teaser series dedicated to the making of my two girls Halloween costumes this year.  The next few blogs in this series will show what I have done so far, piece by piece until I have reached the finished project of my creation.  Of course it's a *teaser* it is at my discretion of what I post until the end. 
Admittedly, there is nothing grandeur about what my children have decided on to dress up as for Halloween however my brainstorming on how to accommodate their request (and to keep them warm!) is a bit elaborate as I have settled on accomplishing this by crocheting the good majority of both their costumes.  
Have I bitten off more than I can chew?  
Trust me, I have asked that myself a dozen or more times already.  I guess if you don't see two finished costumes posted around Halloween then that just may be the case.  However I am feeling good about this right about now, since I have purchased the materials needed just last night and I already have one part of one of my little girls costume finished and the 2nd part is near complete. YAaaah!
So here it is.  
What stylish ghost or ghoul would be caught without some handmade arm warmers from their mummy on a cool October night?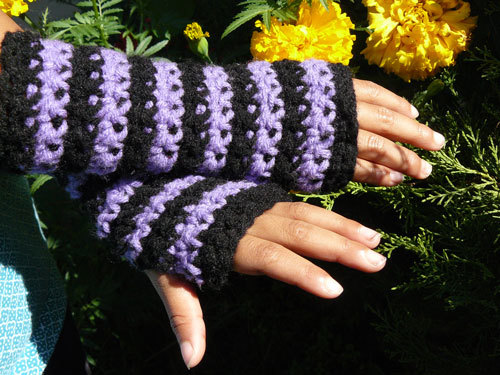 This will be for Costume #1.
Stay Tune!
Blessings...............