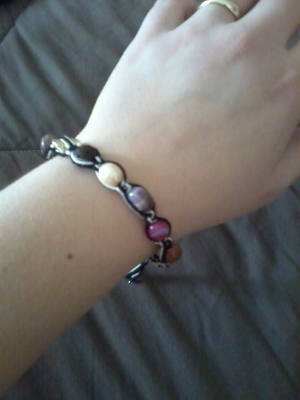 Merry meet everyone!  I just wanted to brag on myself just a tad today on my latest bracelet project I completed.  I recently purchased and read "Paganism: An introduction to Earth centered religions" by Joyce and River Higginbotham. 
It's a good book for beginners like me who are starting their journey down a new path.  It's basically an overview of the main principals of the faith, the holidays, a little history, and a few meditations and magickal workings for you to practice. 
One project that's listed in the book is to make a necklace (obviously I chose to make it a bracelet instead) that is a reminder for you that you are connected to the Earth and the elements, as well as to remind you to open yourself up to the magick around us all.  Each bead represents something different.  I used: Agate for Earth, citrine for air, a pearl for water, and a small basalt (lava rock) bead for fire. I also used an agate bead that's been dyed purple for spirit, a pink bead (I forgot what it was, I bought it a while back lol) to represent connectedness with everything, and goldstone to represent my openness to magick.
I used black and white string to represent the balance of the light and dark halves of life, and tied 9 knots at the beginning and end of the bracelet as well as 3 in between each bead. (I used square knots because they just look cool.) 
As you are making this, the book instructs you to meditate on the the meaning of each bead and the entire [bracelet] too once you're finished. 
Anywho, I just wanted to show it off, and wonder if anyone else had read this book and done this as well.  I've been wanting to make this for a while, but only just recently finished gathering the beads I wanted.  (Also I didn't have any incense either lol.  You need to cleanse each bead first with the elements.)
Blessed be my friends!  Have a wonderful day.  )O(