Before you get your undies in a knot about this incense being *church* style incense.  Let me start off by saying this is a xmas gift for a nearby hubby's friend/babysitter who watches my children when needed without payment (I know you want to have wanna those *friends* who would do that but sorry I can't help you there).  
Of course this friend (and family) has more of a christian bent.  That I chose a typical and common standby for them.  Basically frankincense and myrrh with a bit of a twist.  As to why I would make incense for them is because my hubby came home one day asking if I had any incense because this friend was asking for some (why of course I'm a witch!) and I sent with him a couple homemade dragon's blood incense cones that I had on hand.  End of story, word got back to me that it was the best incense they have ever had (and just to note the dragon's blood was not for ritual purposes for I was experimenting with makko for the first time).  Needless to say since my homemade incense was a hit, I thought it would make a good gift.  
So here is the list of ingredients.  Play with it how you see fit.
Sorry, this isn't much of a how to guide.  Just sharing a recipe.
Frankincense
Myrrh
Cedar
Cloves
Makko
Distilled Rose Water (to make a dough and shape into sticks or cones)
Here's a picture of the incense drying between two jars that I crochet a cover for.  They look really pretty when tea lights are burning in them.
Yes, that is a pizza hut paper plate.  I didn't realize I was out of wax paper to dry my cones on and had to improvise.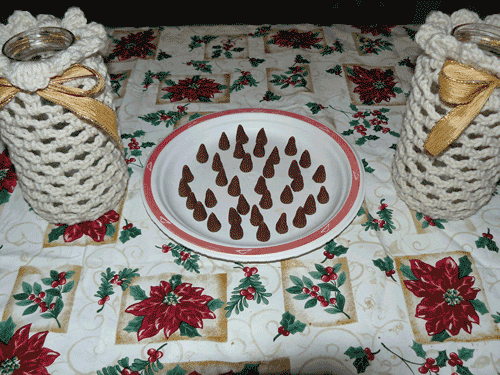 Blessings and Happy Winter Solstice/Yule or Holidays!