Greetings and blessings everybody. I'm hoping to get some insights, information, and ideas on feather magick.  I've used feathers for smudging for ages (One of my former mentors is a Navajo Medicine Man who remains a good, albeit long distance friend) and I suppose that could be considered feather magick of a sort. But here in the past year or so though, feathers have been coming to me left and right. big feathers, small feathers, long feathers, short feathers, colorful feathers, dull feathers, all sorts of feathers! It seems I can't go more than a few days in which a dropped feather does not draw my attention to itself.
That being said, I know many people feel feather drops should be left alone. Here in the U.S. people tend to think that only bald eagle feathers are prohibited but the Migratory Bird Treaty Act in the U.S. and Canada  "...makes it illegal for anyone to take, possess, import, export, transport, sell, purchase, barter, or offer for sale, or purchase, any migratory bird, or the parts, nests, or eggs of such a bird except under the terms of a valid permit issued pursuant to Federal regulations." (This includes virtually every wild, native bird in north America!)
So I guess part of my question is, what is your take on picking up dropped feathers and using them in magick, but more specifically I'm interested in how they are used.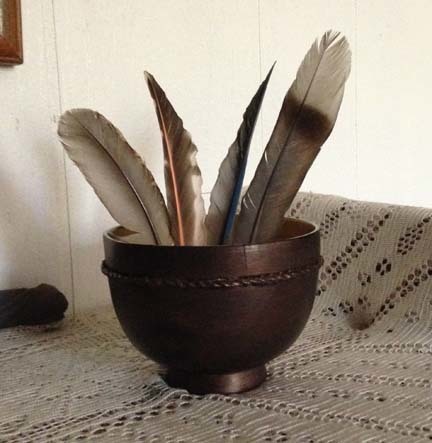 Feather magic bowl