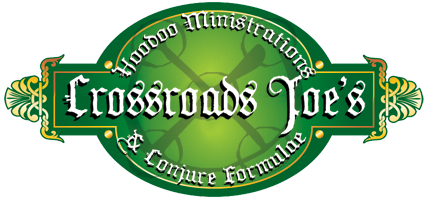 The crossroads is where everything happens - the in-between place where paths meet and anything is possible. The crossroads represents the place where Heaven and Earth, the physical world
and the spirit world, the needs of the physical body with the powers of the unseen, all meet and mingle. These in-between places are where power gathers, and those who know the ins and outs of the crossroads can tap into that power.
For generations, people have turned to conjurefolk - hoodoos, two-headed doctors, rootworkers - for the help they need with their day-to-day problems. Sometimes, it's not enough to strive for love, success, healing and luck on your own, in the mundane world. Sometimes, you need someone to strive on your behalf in the spiritual world.
Crossroads Joe's Ministrations offers a growing selection of services and goods to our clients who are seeking to tend to that place where the spiritual forces of the world meet the physical realities - that's the crossroads you'll find us waiting to help you at.

House blessings, setting lights for love, prosperity, blessings and cleansings, spiritual healing and many more services performed within the Southern conjure and hoodoo tradition. Feel free to contact us any time; we will work both locally and from afar, according to your needs and situations.
Ministrations Performed
Spiritual Consultations: Sometimes, you need insight and advice more than anything else. I'd be happy to offer you a little of both, using a variety of systems intended to guide and advise you. From a Tarot card reading, to an astrology consultation, bibliomancy and other methods, let me find just the right divination method for your needs. $25 for a half-hour consultation. Available in-person or long-distance.
Setting Lights: Candle ministrations are an old tradition in conjure and hoodoo, and sometimes you need someone knowledgeable in the "philosophy of fire" to lend a hand. I will tend to the burning of that candle myself, keeping an eye on the flame, wax, smoke and soot to determine how the Work we're doing is progressing. I'll email you photos occasionally as it burns, and give you an idea of the situation it is presenting. $10 per candle/concern. Available in-person or long-distance.
Mojo Hands & Tobys: A mojo hand (also called a mojo bag or a toby) is a spiritual helper. Baptised with a name and given the breath of life, your mojo hand will work hard for your benefit. You just carry him around, feed him once a week with a condition oil (included) and protect him by keeping him out of other peoples' sight and hands, and he'll work for you for a good, long time. $30 per mojo hand, plus shipping. Available in-person or long-distance.
Hands-On Ministrations: Hands-on work is an important part of some conjure traditions, and the holy art of laying on hands is alive and well in our practice! Let us pray for your needs, laying on oil-anointed hands. Healing, cleansing and blessings of all kinds - from finding love to attracting prosperity - are done through this sacred technique. $30 per half-hour session. Available in-person only.
House Blessings: The home is the seat of all our blessings and prosperity. It is as necessary to clear stagnant and ill spiritual residue out of our homes as it is to keep them free of dust and dirt. It is a truth that we require good spiritual and physical hygiene to be truly healthy and happy; this same truth applies to our homes, as well. $50 per hour. Available in-person only.
Goods Provided
Not Sure?
Not sure what you need, or what you're looking for? Just drop me a line at joe@crossroadsjoe.com, and we'll chat about it. Consultation, including a three-card reading, is free.